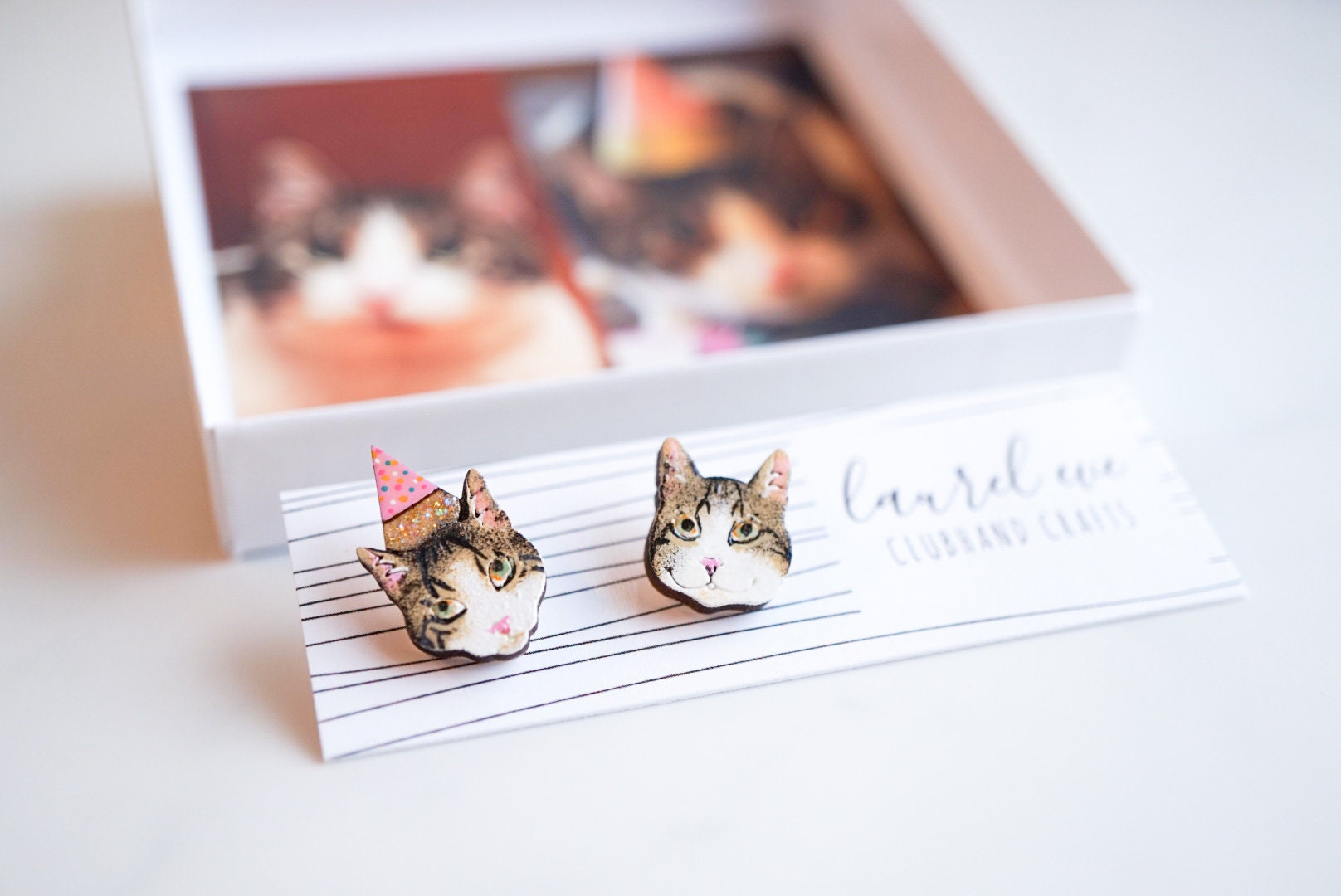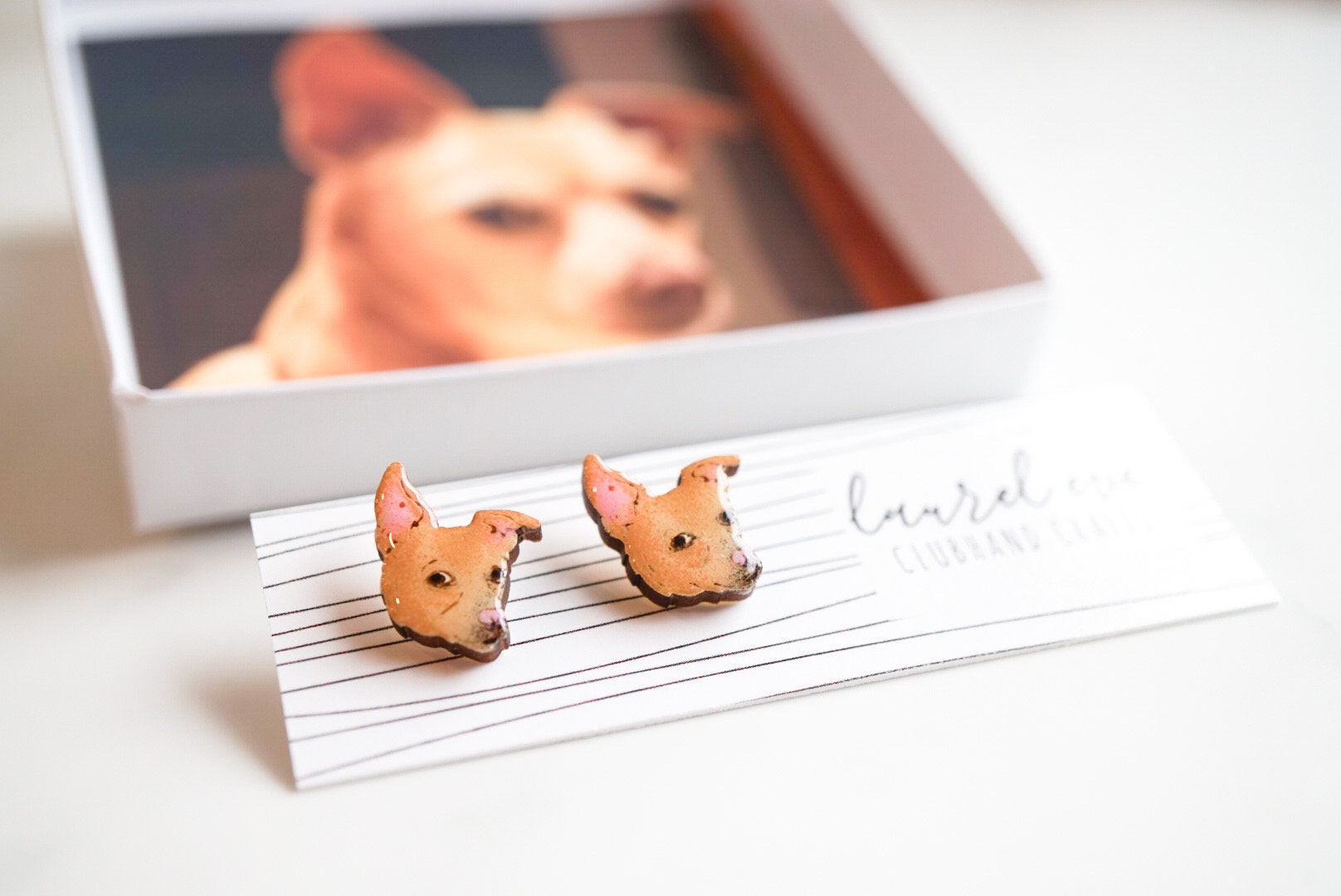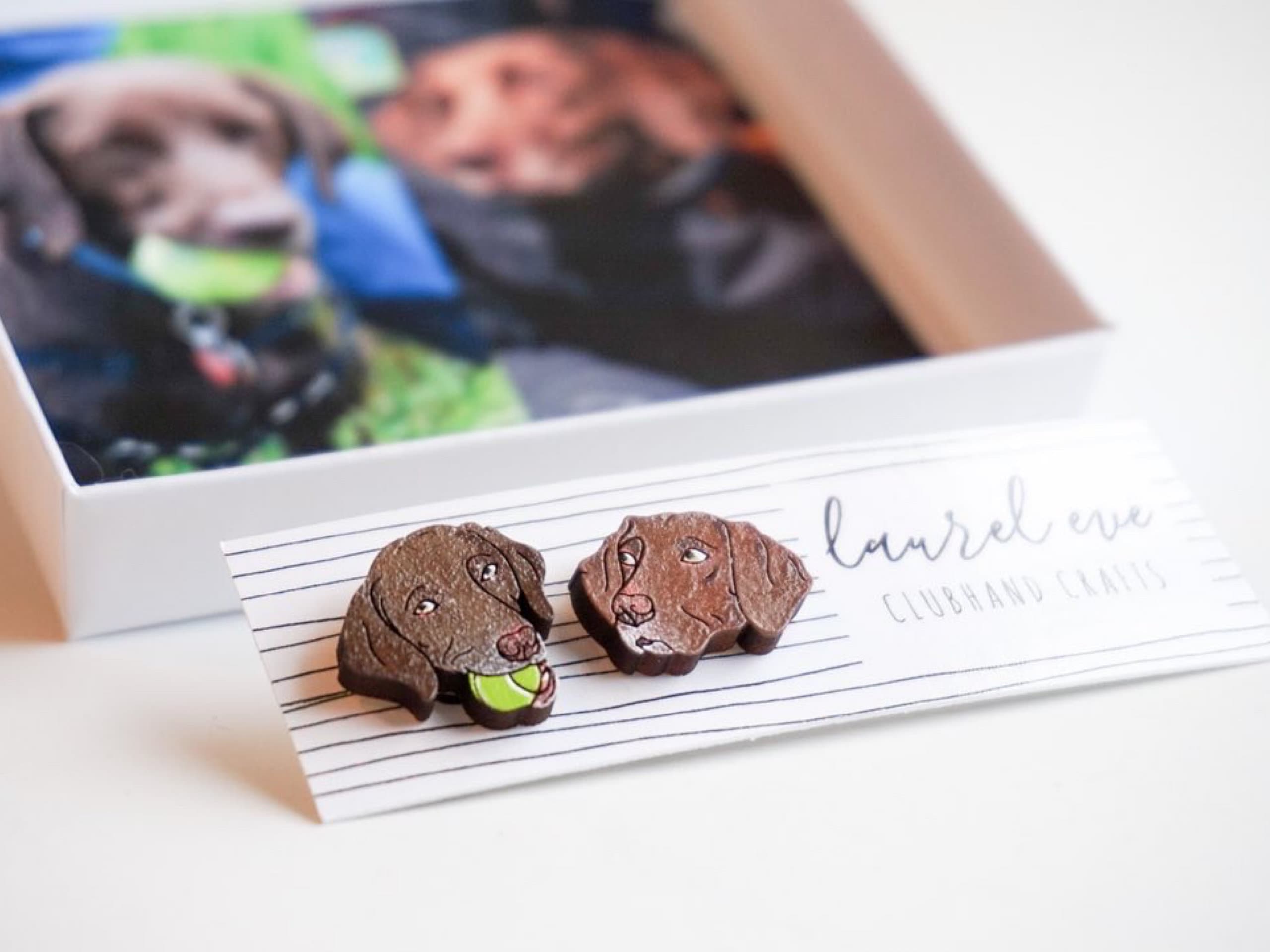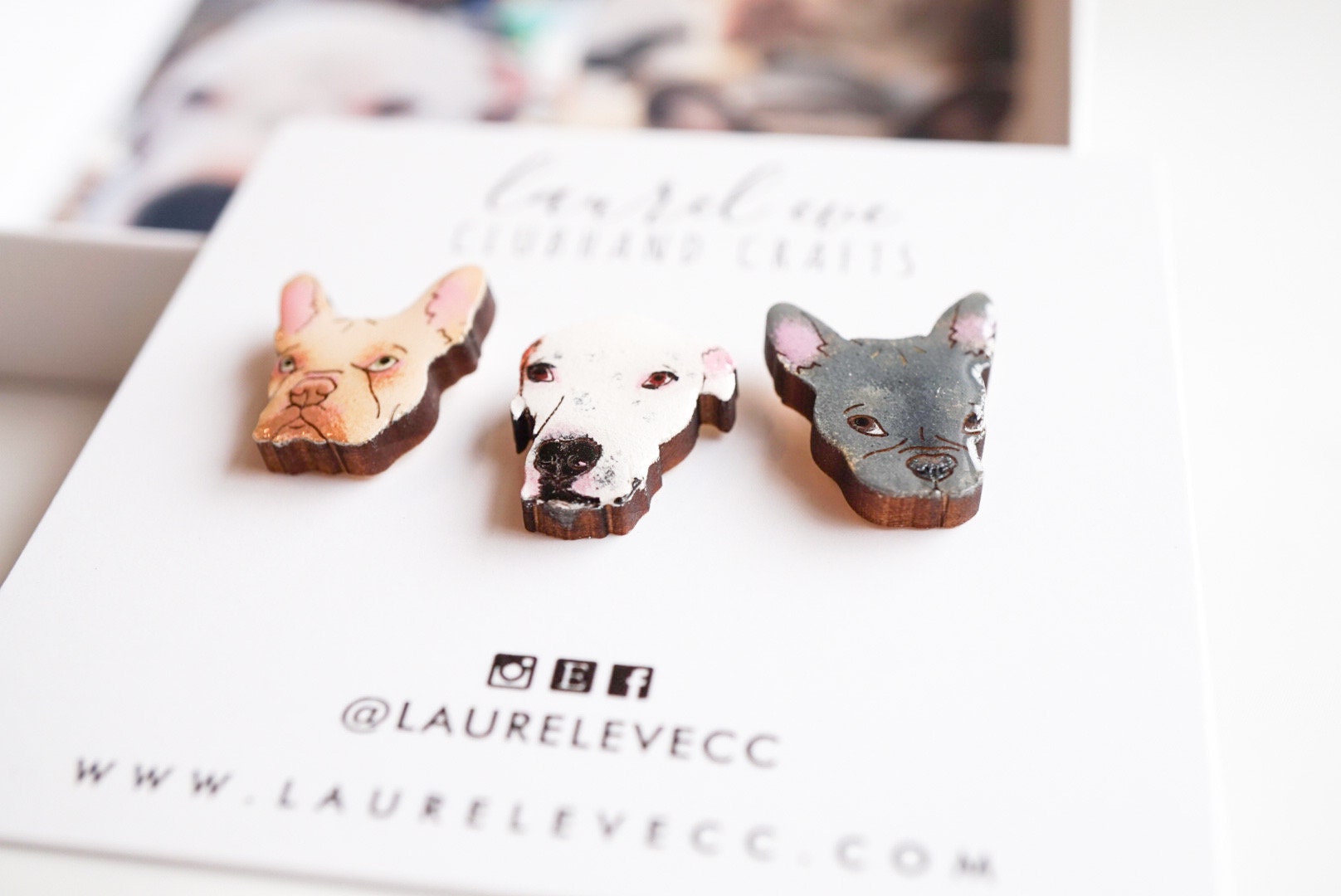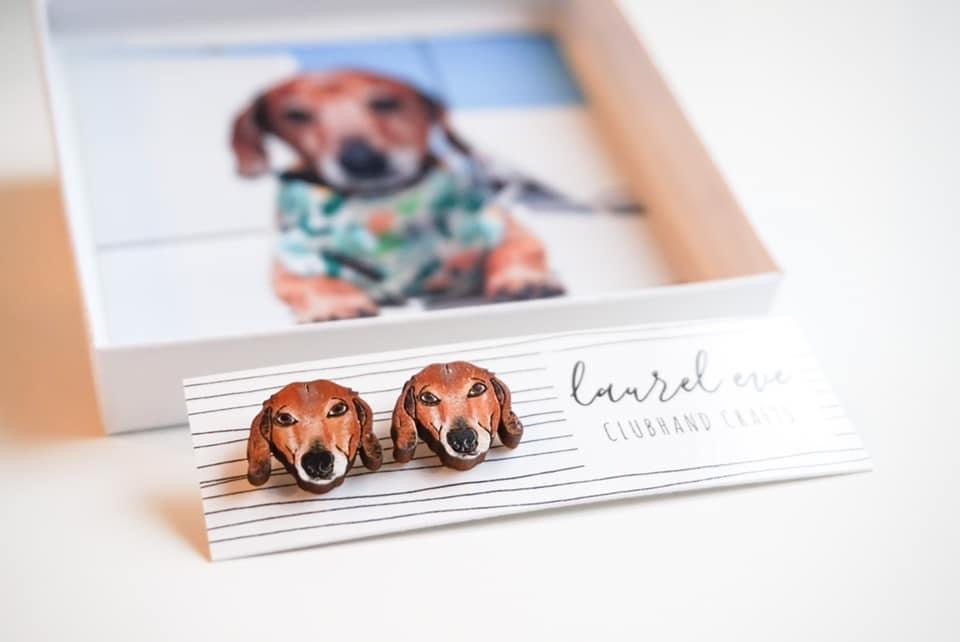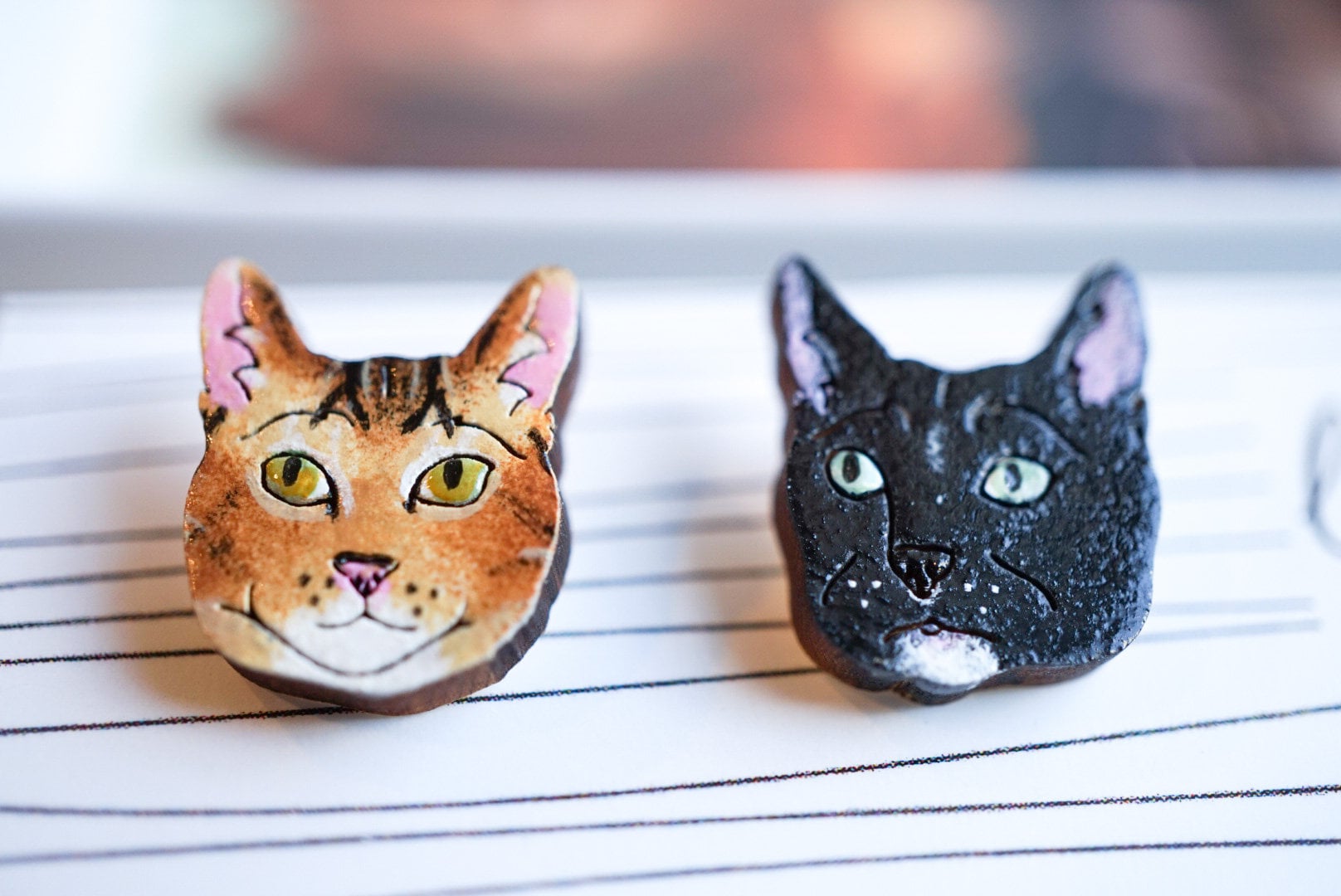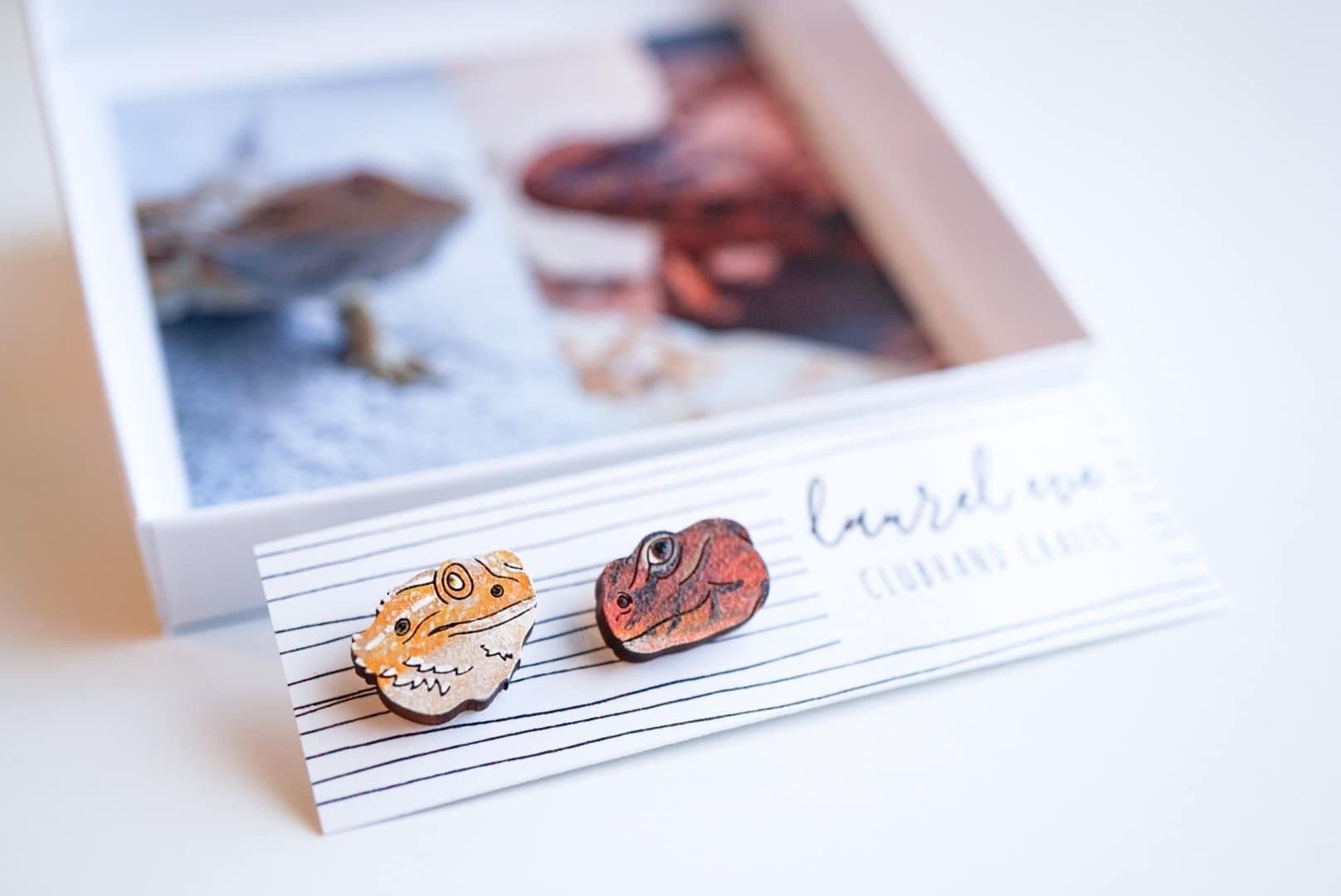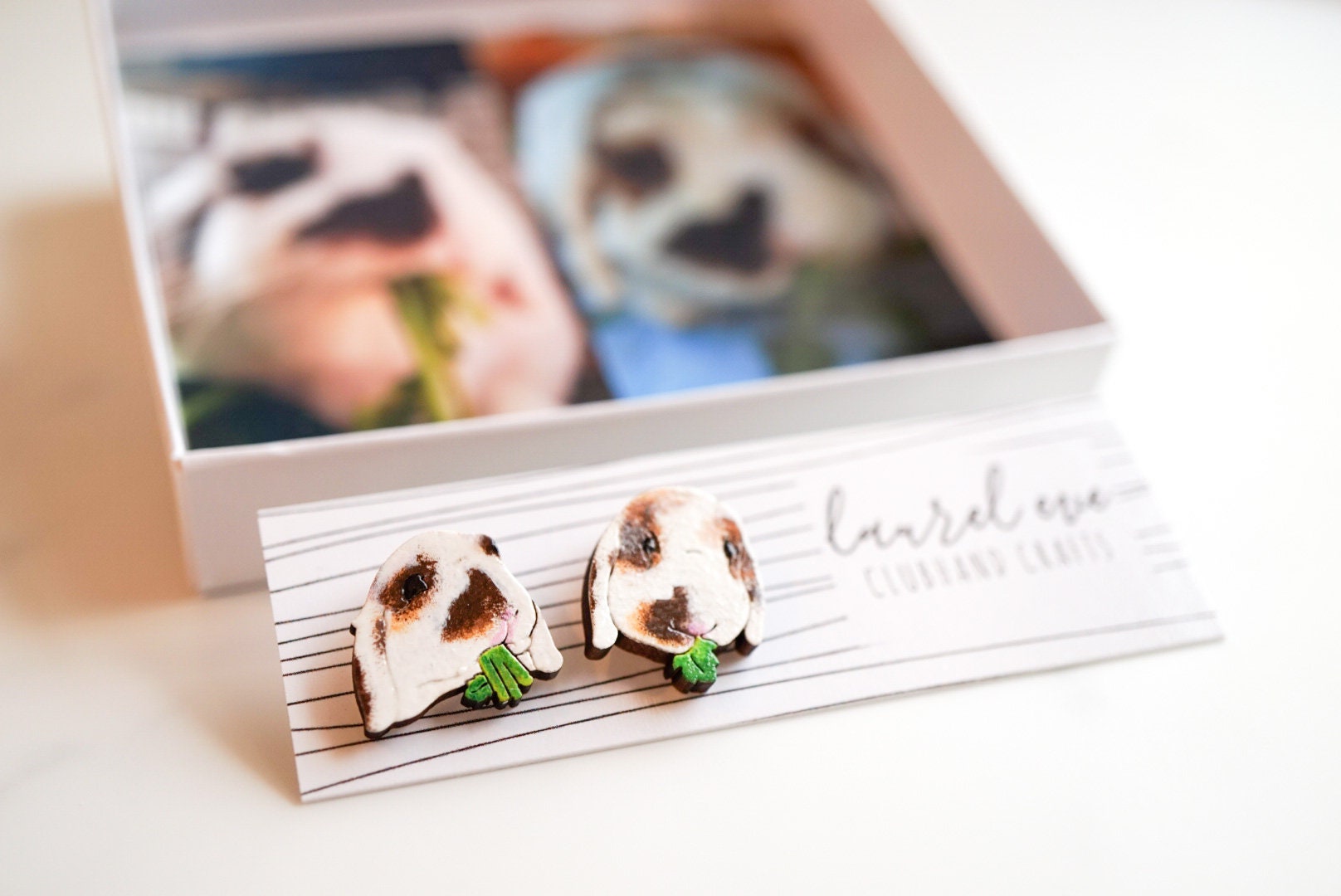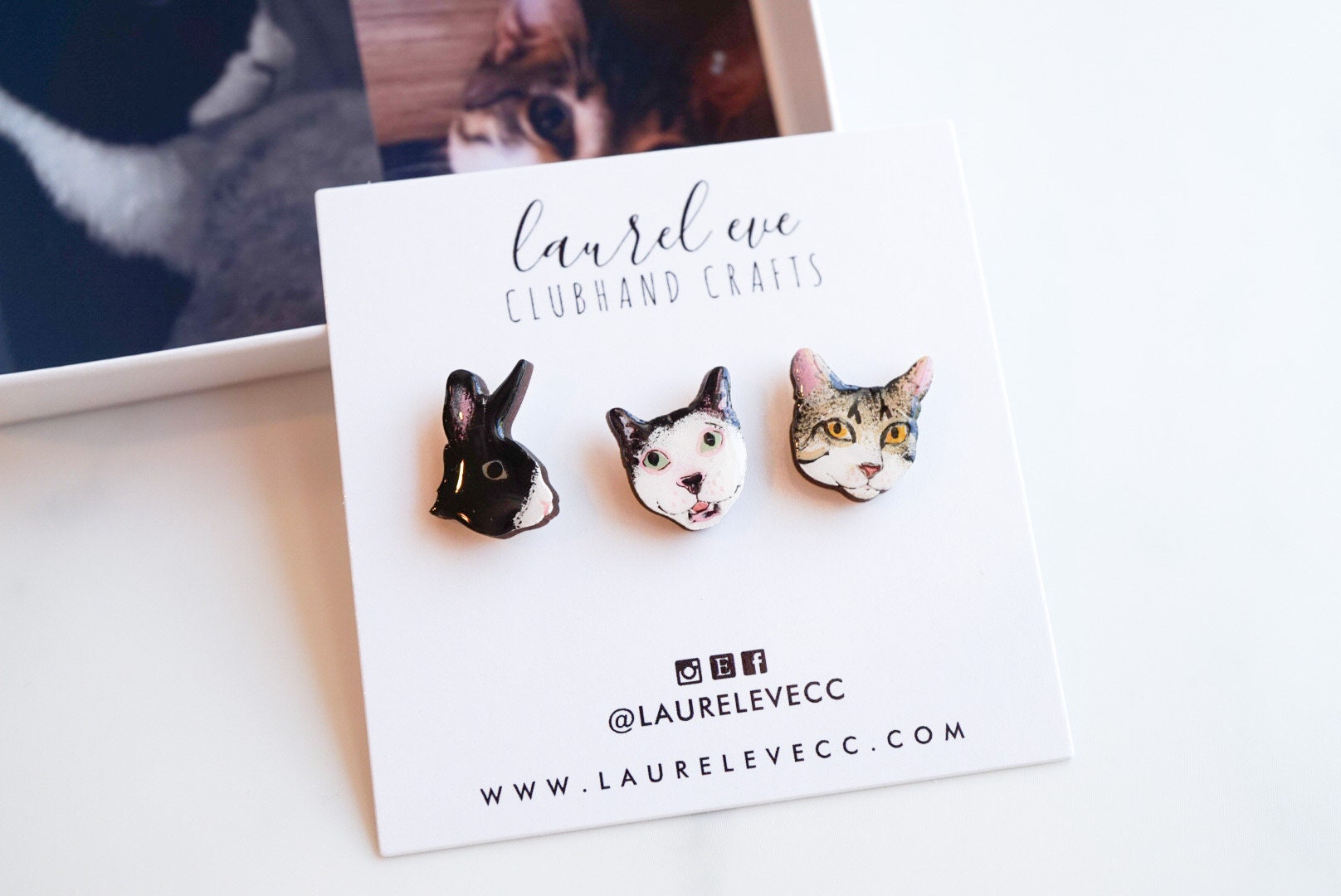 Our pets are family, supportive and way too adorable not to share. A pair of custom pet earrings, personalized to the shape and color of your pets' portrait definitely makes for a fun way to share the love for your fur babies. They even make for the perfect gift.

Earring Materials

- Lightweight, Medium Basswood Hardwood/draft board
- Laser Engraved Pet Face
- Hypoallergenic Stainless Steel Earring Posts (Silver in Color) OR request sterling silver
- Transparent Push-Back Closure AND Stainless Steel Butterfly Earring Backs
- Industrial Strength Adhesive Bonds Stud to Wood
- Size: around 1/2in (Cards: 1x3in)
- Top Coat: Paint Varnish
- Hand-painted
- Acrylic Paints
- Hand Drawn or Drawn with Graphic Design Software

The earrings are homemade and unique, so any replications may slightly vary. They are also delicate, so a forceful tug or pressure may separate posts, damage wood or remove paint. Wood may discolor over time. NOT waterproof. Small earrings: choking hazard. Colors vary depending on the settings of your screen. Customizations are not an identical version of your pet but are meant to be a fun representation. Sizing is roughly around a half-inch and varies depending on the shape of your pet's head. Please, clean earring posts before use. Enjoy!

$77 - One pair of earrings: three different pet designs: one for each ear and an extra to interchange.
$60.50 - One pair of earrings: two different pet designs: one for each ear.
$44 - One pair of earrings: the same pet design for each ear.

Processing Time: Temporarily requesting 3-4 weeks as a grad student for the remainder of 2023.

Processing Time for Rush-Orders: 5 full business days (M-F/business hours).
NOTE: Rush orders will appear to have delivery estimates as if they were a regular order at checkout but the ship-by-date will be adjusted accordingly.

NOTE:

I love to share my work on other media platforms to give others inspiration for gifts this holiday season! If you ordered a custom item that you would like for me to NOT post on my social media accounts, please send me a message.

Shipping: Delivery estimates are not guaranteed delivery dates. Please, allow for some wiggle room between the estimated arrival of your order and the date in which you'll need your order by. The safest option if not to order early is to upgrade your shipping method OR select the "rush" option.

All custom order sales are final.


INTERNATIONAL CUSTOMERS:

The progress of shipping can last at least a month, so please order early and/or opt for a faster shipping method if your situation is time-sensitive.



CHECKOUT:

Step 1 - select your style (1 pet, 2 pet, 3 pet, 1 pet rush, 2 pet rush)
Step 2 - add date of event in personalization box (the date will not be added to the cufflinks)
Step 3 - checkout
Step 4 - send your pet picture(s) via Etsy message or email: laurelevecc [!at] gmail.com


If you would like accessories in your pet drawing (glasses, bow, collar, etc.) please include them in the picture(s) with your pet wearing them.

For rush-orders: The rush to complete your order begins the day of the purchase unless purchased outside of business hours or business days (EST). The work-rush would then begin the following business day (M-F).
Shipping from United States
Processing time
3-4 weeks
Customs and import taxes
Buyers are responsible for any customs and import taxes that may apply. I'm not responsible for delays due to customs.
Returns & Exchanges
I don't accept returns, exchanges, or cancellations
But please contact me if you have any problems with your order.
Privacy policy
Processing Time: Custom orders vary depending on stock availability, demand and the nature of the customization. There is a 2-3 week processing timeframe on custom orders. If you need something sooner, something non-custom, I have other products available at a number of stores in Northeast, Ohio.

Rush-Orders: When purchasing the "Rush-the-Process" option for a custom pet product, the creation process will be rushed at a pace of 3 full business days (M-F). Please, understand that a rush-order placed on a Friday night will not be processed until Monday morning and would then ship that Thursday (after 3 full business days of work). The "Rush-the-Process" option ONLY rushes the creation process, not the speed of shipment.

Shipping: Buyers can choose from USPS shipping options. In general, domestic shipping typically ranges from 1-6 business days. For faster shipping options via other mailing service providers, please contact me with your requests. I do not accept returns, cancelations or exchanges but if the shipping service returned a package for any reason, buyers are responsible for the return shipping costs.

Regarding shipping upgrades: The price of the shipping upgrade is in addition to the price of the product. There are no discounts on shipping.

International orders: Please, know that I cannot under-declare the customs value of your package. To get a better understanding of what the fees may be, there are customs import duties-and-taxes calculators available online. Keep in mind that international orders have been known to average at a speed of at least one month of shipping, so please order early if your situation is time-sensitive.

Lost/Damaged Packages/Products: Laurel Eve LLC has no control over packages once they have shipped. Laurel Eve LLC is not responsible for a lost/damaged product or a lost/damaged package, as the state of the project was photographed and sent to each buyer prior to shipping, and the handling of the package by the shipping carrier is out of my control. If the product was damaged when handling or on-arrival, any replacements will need to be re-purchased. Contact me for a discount on a replacement.

Lifespan of products: All Laurel Eve products are delicate and susceptible to damage regardless of creation date. A forceful tug or pressure may separate posts, damage wood or remove paint. Wood may discolor over time. NOT waterproof. Small products: choking hazard. Any remakes must be repurchased regardless of the level of damage. Contact me for a discount on a replacement.

Returns: Due to the nature of these products, all sales are final, non-refundable, and non-exchangeable.

Payment Method: Etsy payments are simple, flexible, and secure. They include PayPal, Mastercard, Visa, American Express, Discover, etc. Etsy shops never receive your credit card information. Free-shipping is provided using USPS First-Class Mail for US orders, only. If a faster shipping method is requested after checkout, customers are responsible for the cost of the new shipping method of choice (in US currency) via PayPal: laurelevecc@gmail.com
Please, contact me about this request before sending the funds.

Packaging: Earrings are assembled on a 3x1 cardholder. Along with earrings, the cufflinks, Keychains, pins and magnets are packaged in a 3 1/2 x 3 1/2 x 1 heavy duty cardboard jewelry box in black, brown or white, with a business card and into a bubble mailer, typically 9x6 depending on the amount of items ordered at once. Packages do not include order receipts, as they are emailed to the customer.

Address Change: I usually do not print shipping labels until a day or two before the scheduled shipping date, so you'll have plenty of time to contact me about making an address change.

Photos: Any drawing and picture taken by Laurel Eve LLC will be shared via Etsy and other media outlets for advertising purposes (social media, magazines, T.V., bride show marketing materials, landing pages, etc.). The pet photo(s) sent by the customer for the accessory box will (mostly) be out of focus in the product completion photo.

Laurel Eve LLC retains all custom art designs. All custom art designs have a chance at being in future marketing and/or products sold by Laurel Eve LLC.

COVID-19: Laurel Eve LLC is operating as normal during the COVID-19 pandemic. However, please be aware that shipping is outside of my control, and due to flight reductions and increased border restrictions, your order will most likely take longer than normal to arrive. I will do my best to keep you informed of any changes, and I sincerely appreciate your support and patience during this time.

Emergencies: If there is a Laurel Eve LLC owner emergency when your ship-by date is quickly approaching, you will be notified ASAP about making new arrangements.

Thank you for understanding the policies of Laurel Eve LLC, as they are meant to protect and benefit both buyer and seller.
Frequently Asked Questions
Can I wear these earrings if my ears are sensitive?
Ear sensitivity is different for everyone. All earring posts are hypoallergenic stainless steel, however, 925 sterling silver, plastic earring posts and clip-on earrings are also an option. If you need something different, just message me about those accommodations.
Will I get to see and make changes to a mock-up drawing before or after purchase?
Each project has an allotted timeframe for creation which does not begin until an order number comes through and is next in queue.
Mock-ups are not given, as that often rolls into the creation time of other orders when changes are requested. Each project is drawn with paint in mind, so seeing a mock-up would not do justice to the final piece when those extra important details have not been painted in yet. Every order is unique but please, see past orders on our website gallery, in listing photos, on social media, etc. to get an idea of what your project will look like. All sales are final.
Do you only create cats and dogs?
No. Cats and dogs are the most common household pets but we enjoy creating exotic pets, livestock, and other sea and land creatures.
Can I upgrade my shipping method if I already made a purchase?
Shipping upgrades can be made anytime after purchase but before an order ships. Shipping labels are usually printed within the last few days of turnaround time. Reach out with your request and we'll send you an invoice for your new shipping method. If there is non-payment for the invoice and we cannot contact you before your original scheduled ship-by date, your order will be shipped using the original method requested at checkout.
Can I change my item for one similar?
These changes can be made within the first few days of the purchase of NON-RUSHED items. Changes can be made to items that are similarly priced, for example: stud earrings for leverback earrings. If a change is requested for an item at a higher cost, you will receive an invoice for the difference. If the invoice is not paid for the change request, the change will not occur.
Where do you ship and can I update my shipping address?
All custom pet products can be shipped worldwide.

Address updates can be made anytime before the last few days of your scheduled ship-by date unless your order has already shipped. If your item is part of a rush order, contact us immediately with this request, as rush orders will ship after 3 full business days of processing (M-F).
Will my custom order look exactly like my pet(s)?
While we strive to provide an identical replication of your pets, our custom pet products are merely fun representations. Please, remember that we can only paint the visible features in the colors showcased in the given photos. Please, provide well-lit, non-filtered, hi-res photos for the best results. Feel free to send multiple photos. If there are questions about a unique feature or color, we will reach out. Take a look at our reviews and past creations to get an idea of how we can represent the features in a pet.
Gift wrapping and packaging
Packaging: White 3.5x3.5x1 heavy duty cardboard box with a cotton pillow and an image of your pet(s) glued on the inside of the box lid. The outside of the box will have a thank you card held in place by an elastic bow string or an adhesive dot. Products are placed on the cotton pillow face-down to protect the wood during transit. Some products are attached to a display card: cufflinks, earrings, pins, etc.
Shipping package: Currently, all products will ship inside of a 9x6 manila bubble mailer. Other than the name of the business "Laurel Eve LLC" or "Laurel Eve - Clubhand Crafts", there is no obvious indication of what's inside (unless the business name is searched). Receipts not included, just emailed. Request a hand-written gift tag.
Can I turn my items into a rush-order after purchase?
Yes. Regular orders can be changed to rush-orders any day after purchase. An invoice for these changes will be sent via email. An order will not be changed until the invoice has been taken care of.
Rush-orders will begin the 3-day (M-F) processing time frame on the day the order is changed to a rush-order.

BEAUTIFUL work done, matches the photos exactly!! Worth every penny these are so high quality and are truly priceless! It took longer than expected and Laura was so accommodating even sending fast shipping with no extra cost. Wonderful earrings and a wonderful artist 💙

My earrings are beautiful! Totally exceeded my expectations! Laura was absolutely wonderful to work with!! She even managed to get my dogs eye injury painted properly. I will definitely order from Laura again. Will treasure these earrings forever. TY Laura!💝
Beautiful earrings and responsive owner. A+! :)
The earrings came out beautifully. The resemblance is amazing. The quality is amazing and well worth the price.
Wonderful! My daughter will love them!